Suddenly a great company of the heavenly host appeared with the angel,
praising God and saying,
"Glory to God in the highest heaven,
and on earth peace to those on whom his favor rests."
     Tiny white lights, evergreen boughs and excited guests filled the sanctuary in anticipation of the annual nativity pageant. Excitiment permeated the room; children were costumed and the lights were dimmed. The reader began, "In those days the Roman Emperor decreed that a census be taken…" The story progressed, but when the little lamb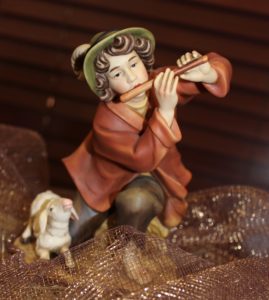 saw the audience he burst into tears. The angel couldn't stop twirling and Joseph was throwing up in the bathroom.
     Nevertheless, at the conclusion of the pageant grandparents gush over their grandchild's participation, cameras snap, hugs, smiles and cookies are enjoyed.
     Advent is a time of anticipation, we anticipate festive events, family cheerful, with our homes decorated for the season. But it doesn't always turn out the way we imagined. The food flops,  the weather is questionable, and overtired children become fussy, whatever the faults may be, the Christmas we anticipate never completely materializes.
     So whatever  your celebration looks like, at the conclusion the true joy of the season; Jesus the Savior is born is still all that matters.  So overlook the glitches, and revel in the birth of our King, our Immanuel. God is with us, and that is reason for celebration.